Obituary for Calvin "Popeye" Cary Galloway, Sr.


Watch service live at:

https://www.hdezwebcast.com/show/calvin-cary-galloway-sr

Mr. Calvin "Popeye" Cary Galloway, Sr., 79, a resident of Ocean Springs, MS, passed away, September 19, 2021, at Singing River Hospital in Ocean Springs, MS from natural causes. He was born in Ocean Springs, MS on February 18, 1942, the son and third child of Lorenzo Galloway and Emma McDaniel Galloway.

Popeye's mother Emma "Ms Tit" sowed in his heart at an early age this wisdom "Always Plant a Garden and Always Raise Animals on YOUR LAND, YOU may not eat what YOU want to… but YOU will never see a hungry day!".

At the age of 15, Popeye met the love of his life Rose Marie Hughes of New Orleans, LA. While at E.H. Keys High School one of the girls asked Rose to tell Popeye that she "liked" him. And Rose did. But, Rose also told Popeye she "liked" him too. And the rest is history. On September 5, 1960, Popeye and Rose were married. They had a total of 15 children (3 daughters and 12 sons).

Popeye, Rose, and their children all lived on 915 State Street between Popeye's parent's home and their parent's business, a restaurant "The Little Harbor" or affectionately called "The Shop". As Popeye and Rose's family grew, Popeye would add a room. But, Popeye had a bigger vision for his family. Popeye and Rose purchased some land "across the bayou" (present-day St. Martin) and started their quest to own a larger home.

BOW SAW AND BLADES HISTORY A Bow Saw (aka Buck Saw) and blades were used by Popeye to clear the trees from the original 1-acre plot of land and later the other 3 acres of land purchased by Popeye and Rose. He did not own a chain saw so he would use what he had, this saw, an ax, hatchet, and other related tools to some days clear 5 to 10 feet sections at a time. Popeye would cut down the trees and then cut them up into firewood and have the wood stacked throughout the homestead for later use. The saw and blades are a testimony to the fact that "a person needs to use what they have until they can get what they need to accomplish the goals they have in life".

The Two-man CrossCut Saw dates back to the early 20th century (circa 1915). It was handed down to Popeye from his father Lorenzo Galloway. "Grandpa Lo" as he was affectionately called; was an Ox Team Driver (circa 1925-1935) and an employee for the O.S. Lumber Company (circa 1940's thru the 1950's) and frequently used this saw on the job. During the 60's Popeye and his father, Lorenzo used this Two-man CrossCut Saw to cut up the many pine trees on the original 1-acre plot of land, into rough cut lumber that was used for the floor sills and floor joist for the Galloway Family Homestead House, which Calvin, Rose and their 10 children built in seven (7) years. The use of this saw was one of the many "rites of passage" for the seven (7) sons of Popeye and Rose, to cut down pine, oak, and other trees and then into logs for heating the wood stove utilized within the house and other farm uses and of course for BBQs. The use of this saw and other everyday jobs, forged into their children a healthy work ethic and was always accompanied by many life lessons and nuggets of wisdom from Popeye to his children. In August 1976 Popeye, Rose, and their ten (10) moved to their present residence of over 45 years.


Popeye graduated from "E.H. Keys High School" in 1960 where he was a member of the State Basketball Championship team. Popeye spent His working career at Ferson's Optics for over 46 years. "Bro Pop" was a faithful and dedicated member of Macedonia Missionary Baptist Church and served as the Sunday School Superintendent for over 35 years.

Despite having ten (10) children of his own, Popeye truly believed that "it takes a village to raise a child". Popeye served as a Boys Scoutmaster Troop 418 and coached numerous sports teams. Popeye was also a member of the Aborigines Softball team. Popeye was selected as "Jackson County Citizen of the Year". Popeye was a positive role model to all of the young men and women in the community. Sowing in them words of wisdom on how to be a man, instilling confidence, and guidance for their walk with the Lord impacting their lives today.

Popeye never met a stranger. He always chose to see the good in everyone. Popeye loved unconditionally. Popeye would give you the shirt off his back. But, most importantly Popeye gave everyone quality time. It was hard for Popeye to say no to anyone.

Popeye was a crafty man that built a beautiful family home on several acres of land from the ground up. His land is full of fertile soil that has been thriving for decades. He has cultivated the most bountiful crops of vegetables, herbs, fruit trees, and nut trees. He enjoyed the simplest of pleasures and practiced traditional values he taught others that will continue with many. The love he declared for his Family was unconditional. We're sure you all know; Popeye had another love. And this love allowed him to build a legacy that will remain forever. He called this love the Galloway Family Farm. Popeye welcomed many to his home, his farm now legacy. The fruits of his labor have been enjoyed by many within and outside of his community. As a loving and spirited family man, memories were his most important feature of life. Life is too short and precious to allow any stressors to detour you from the joys of life. Popeye always said that there is nothing in life worth stressing over. You must live life and cherish every moment because you don't know when it's your time. Lastly, Popeye left strict instructions to his family to build a "Galloway Family Museum" on the land. His wife Rose and children will work tirelessly to ensure his memory for a "Galloway Family Museum" comes true next to his final resting place.

Popeye was preceded in death by his parents Lorena and Emma, sisters Marion Rocker, Ethel McClendon of California, Classie May Johnson, Ella Margaret Gipson, brothers, Jessie Galloway, Frank Galloway (Toby) all of Oceans Springs.

Calvin is survived by his loving wife/teammate, Rose Marie Galloway of 61 years; brother, Leo Galloway of Beaumont, California; Three (3) Daughters: Veronica Huddleston (Tydus) of Douglasville, GA, Tania Galloway of Madison, AL, and Tara Walker (Jerry) of Hattiesburg, MS. Seven (7) Sons: Calvin Galloway Jr. (Sandra) of Gautier, MS, Terrence Galloway Sr. (Tosha) of Colorado Springs, CO, Robin Galloway, Tracy Galloway (Rose), Theron Galloway all of Ocean Springs, MS, and Tarone Galloway (Chantil) of Columbia, SC. Was preceded in death by Tito Galloway.

Seventeen (17) Grandchildren: Adrian Betts(Tweet) of Atlanta, GA, Adia Betts of Atlanta, GA, Lawonda Evans (Dartenian) of Ocean Springs, MS, Calvin Galloway III (Fallon) of Harvey, LA, Thaddaeus Galloway (Shevahn) of Ft. Walton Beach, FL, Sabrina Galloway of Madison, AL, Jasmine Galloway of Madison, AL, Terrence Galloway Jr. (Camia) of Colorado Springs, CO, Tiara Mariscal (Christopher) of Colorado Springs, CO, Tyanna Zeno (Branden) of Ft. Riley, KS, Crystal Crawford (Lety) of Killeen, TX, West Jenkins of Fayetteville, TN, Josiah Jenkins of Fayetteville, TN, Emmanuel Galloway of Columbia, SC, Jada Clark (Michael) of Hattiesburg, MS, Jared Walker of Hattiesburg, MS, and Vanessa Cooper (Joshua McGuire) of Phoenix, AZ.
Eighteen (18) Great-grandchildren: Chanz Betts, Soleil Betts, Talise Betts, Myarae Sellers, Kiara Galloway, Ladericka Galloway, Landon Evans, Londyn Evans, Calvin Galloway IV, Carrington Galloway, Stefan Galloway, Terrence Galloway III, Jayden Galloway, De'Vashjay Scott, Tidus Mariscal, Matthias Mariscal, Micah Clark and Melanie Clark.
One (1) Great-great-grandchild: Quiava Galloway.

In addition to a host of nieces, nephews, cousins, and other relatives and friends.
Popeye affectionately called his wife Rose "Mama", his daughters "Baby", his granddaughters "Grandma", and grandsons "Grandpa" and the great-grandkids called him their "Old Old Grandpa". We are all truly blessed by the Lord and honored to have known and loved such a great man: our Husband, Daddy, Grandpa, Old Old Grandpa, Uncle Popeye, and Bro Pop. We will surely miss you. Love You Always. Until we meet again, Rest in Heaven.

"Die with memories, not with dreams!" - Calvin "Popeye" Cary Galloway, Sr.

Funeral services will be held on Saturday, September 25, 2021, at Macedonia Baptist Church,1702 Weed St, Ocean Springs, MS 39564 at 2:00 pm. Visitation will start at 12:00 pm.

Infinity Funeral Home is honored to serve the family of Calvin Galloway. For inquiries, please call 228-436-6722.

To send flowers or plant a tree in memory of Calvin "Popeye" Cary Galloway, Sr., visit the Tribute Store.
Previous Events
Visitation
Macedonia Baptist Church
1700 Rev. Dr. Jesse L.Trotter Street
Ocean Springs, MS 39564-4008
Celebration of Life
Macedonia Baptist Church
1700 Rev. Dr. Jesse L.Trotter Street
Ocean Springs, MS 39564-4008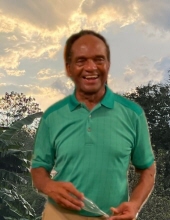 Thank you for sharing your
memory of Calvin
Provide comfort for the family by sending flowers or planting a tree in memory of Calvin "Popeye" Cary Galloway, Sr..
No thanks, please don't show me this again.